Helping small businesses grow with quality accounting
Duncan Titmarsh and Ed Diment have been Lego enthusiasts since childhood and, having carved out their own successful careers, in 2009 decided to turn their passion into a profession by starting a bespoke brick building business together.
Bright Bricks Limited was formed in 2010, and the business soon grew to become the World's premier independent Lego building firm. A trailblazer in their industry, they broke world records and won many accolades for their bespoke brick inventions. As they continued to go from strength to strength Bright Bricks decided to culminate in 2018, having sold the company for £8.5m to Live Company Group Plc.
Bright Bricks are renowned for creating custom made Lego models of all shapes and sizes to specific customer requirements. These range from small 'portrait' images created from photographs, to huge models consisting of hundreds of thousands or even millions of bricks! The level of design, creativity and technical building expertise in their work is incredible, and their creations are truly spectacular.
The company also builds interactive exhibitions and immersive experiences which they take on tour, showcasing them at theme parks and attractions worldwide.
You can see videos of their work here.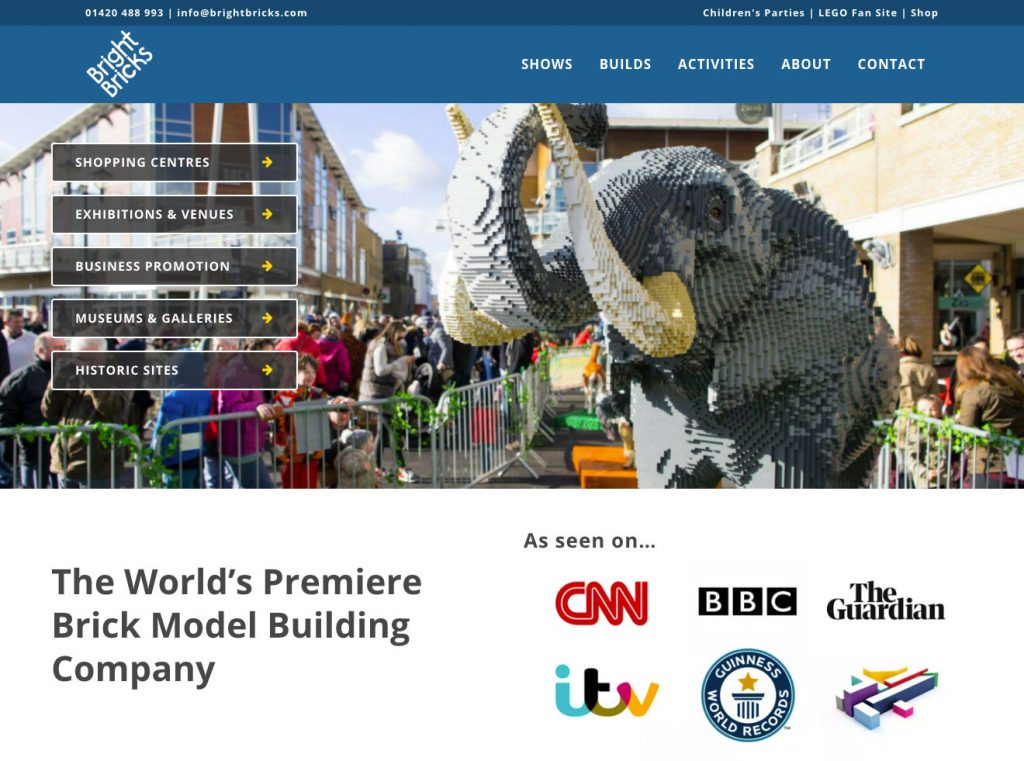 Our partnership with Bright Bricks
Approved Accounting have worked with Bright Bricks from the very beginning and have supported Duncan and Ed on their journey to success. From a small start-up business to international domination – achieving a 60% share of the global Lego building market – we have advised, informed and assisted them every step of the way.
How we've helped the company grow
Building and developing systems:
As Bright Bricks has grown, we helped them to adapt to the ever-changing needs of their expanding business and introduced them to a new way of online accounting.
One of the most important things we did for them was to introduce Xero in 2012, a secure online accounting system that enabled them to seamlessly take control of their finances. Providing them with a clear view of their financial performance, they were able to make sound business decisions based on up to date information.
Xero has also given us a solid foundation to build an efficient accounting function for Bright Bricks. As the company has grown it has allowed us to extend into areas such as stock management, assets, work in progress and cashflow management.
Compliance services
We have given the company a comprehensive service throughout the past 8 years, including management accounting, bookkeeping support, annual accounts, payroll and pension administration, VAT and corporate tax compliance and planning.
Advisory services – valuable extra support when it is needed
But the most important aspect of our trusted partnership has always been the support and guidance we have given the owners, who regularly turned to us for advice as the business grew and became more complex. We were able to offer informed advice on raising equity, trading overseas, creating subsidiary companies and restructuring the group, setting accounting policies and data capture procedures for complex projects, and much more.
We helped Duncan and Ed safeguard and plan for their business future, and together we dealt with the challenges they faced along the way. We even helped them oversee a Guinness World record!
The future
We are thrilled that Duncan and Ed have achieved such a significant milestone with Bright Bricks becoming part of the Live Company Group Plc, and firmly believe that this will take their business aspirations to the next level. We wish them all the best for the future.